Daily rituals of Shree Jagannath Puri
Daily rituals of Shree Jagannath are popularly known as Niti which is a unique system in the world. The rituals of Mahaprabhu are divided into three parts such as daily Niti, periodical Niti and festive Niti.
Each Sevak of Srimandir has a specific role to play the Nitis of Mahaprabhu in the perfect time daily. The Srimandir Niti started in the early morning at about 4:30 am and complete at midnight every day.
The everyday rituals of Lord Jagannath closely characterize the human attributes that are the rituals of wake up from bed, washing the face, brushing the teeth, bathing, taking the food, taking rest, etc.
27 rituals that are observed in Srimandir Puri on daily basis.
The rituals of Srimandir are based on Madala Panji of the temple but it is amended from time to time. In the year 1805, the collector of Puri G.Grome amended the rituals in his report (3rd column), and further, it is amended on 30-04-1965 by the Temple administration Odisha.
The following are the 27 types of daily rituals of Shree Jagannath
1.Dwara Pitha Niti (4:30 am)
Dwara Pitha Niti means the opening of the main gate (Lion gate/Singha Dwara) and other gates, Jaya Vijay Gate, Kalahat Gate. This ritual starts at about 4:30 am of every morning.
2.Bhitar Sodha (4:30 to 5 am)
The inside of the Temple is cleaned and sanitized. Then Shree Jagannath kirtan is starting (Traditional Cultural program).
3.Mangala Alati (5:30 am)
Auspicious Lamp Offering to the deities.
4.Mailam (6 am)
Removal of dress, Floral, and decorations used by Mahaprabhu on the night.
5.Tadap Uttariya Besha (6am to 6:30am)
After bath deities wear another set of dress called Tadap Uttariya Besha.
6.Abakasha Niti (6:30am to 6.45am)
In Abaksh Niti means brushing of teeth, bathing, tongue scrapping, mouthwashes. During Bathing Niti three brass mirrors were kept in front of ditties, sprinkle water mixed with camphor, curd, alma, and sandal paste wood.
During this Niti, the Astrologer of the temple reads out the Tithi and other astrological predictions of the day during Abaksh puja. This Puja was performed with Pancha Upachara.
7. Besha Milam (6:45 am to 7 am)
After the bath, the ditties wear another set of clean clothes. The type of clothes is decided as per the day/Bar like Sunday ditties wear red color Patta, Monday Black, and white Patta, Tuesday Barapatia Patta, Wednesday blue color Patta, Thursday yellow color Patta, Friday white color Patta, and Saturday black color Patta. This ritual was performed at about 6:45 am every day.
8. Sahan Mela (7 am to 8 am)
Sahan Mela means the devotees of Lord Jagannath allowed to have a close and free darshan to Mahaprabhu in Ranta Vedi. This darshan period is normally for 1hour.
9. Besha Ulagi (8 am to 8:30 am)
After Sahan Mela the ditties change the dress and decorate with ornaments, Tulasi mala, and scented flowers as per day specific.
10. Rosa Home (8:30 am)
This Niti is started after Besha ugali. It means the Fire sacrifice in the Kitchen of Lord Shree Jagannath. The Mahaprabhu Kitchen is the world's largest kitchen in which lakhs of peoples get the opportunity to take Mahaprasad.
11. Sury Puja (8:30 am to 9 am)
The Sury Puja (Worship of god Surya) is performed inside of temple near Mukti Mandap.
12. Dwarapala Puja (8:30am to 9am)
It means the Dwarpala/Gatekeepers of Lord Jagannatha. The Jaya and Bijay are worshipped in this ritual.
13. Garuda Puja
In this ritual, the Bahan of Lord Jagannath Garuda is worshipped.
14. Gopal Ballav Bhog (8:30am to 9am)
In this ritual, ditties have taken breakfast. Gopal Ballav Bhog consists of Khai, Kora, Khua Ladu, Fruits, etc. After that, a Pana is offered to ditties which is a favorite of ditties.
15. Sakal Dhupa ( 9 am to 10 am)
Sakal Dhupa means morning Bhog (Morning meal). The morning meal of deities or known as Kotha Bhog or Raja Bhog.
This Bhog consist of Khachudi, Kanika, Dal, Vegetable curries, fried vegetables, etc. and different type of Pitha (cakes) like Kanti, Hansapuli, Mathapuli, Jhilli, etc.
After this Bhog Alati is offered to ditties and after Alati certain portion of the Bhog taken to the temple of Maa Bimala and reoffered to Goddess Bimala and thereafter it becomes Mahaprasad.
16. Mailem Besha
After Sakal Dhupa the deities change their dress is called Mailem Besha.
17. Bhoga Mandap Niti (11am to 11:30am)
After Sakal Dhupa then the Bhoga Mandap Niti is started. A large quantity of Bhog like Rice, Dal, Curries, different kinds of Pitha (cakes) is offered to deities in a big hall which is known as Bhog Mandap.
18. Dwipahara Dhupa (1pm /Mid-day meal)
This ritual is performed at about 1 pm every day. The ritual is the same as Sakal Dhupa.
19. Madhyan Pahuda (1:30 pm to 2 pm Mid-day rest)
After different rituals performed in the daytime, the ditties are taken rest from 1:30 pm to 2 pm which is known as Madhyan Pahuda.
20. Sandhya Alati (6 Pm)
After Madhyan Pahuda the deities change their dress and decorate with a large number of scented flowers and Tulasi mala and Sandhya Alati is offered to ditties.
21. Sandhya Dhupa (6pm to 8pm)
This ritual performs in the same manner as Sakal Dhupa and Madhayn Dhupa. The ditties are offered Subash Pakhal (Water mixed rice) and different types of Pitha . After that Alati is offered to the deities.
22. Sahan Mela (8:30 Pm)
Sahan Mela means the devotees of Lord Jagannath allowed to have a close and free darshan to Mahaprabhu in Ranta Vedi. This darshan period is normally for.
23. Mailam & Chadan Lagi
After Sahan Mela the deities change the dress and the Chadan Lagi ritual is performed. In this ritual Sandalwood mixed with Camphor, Kasturi, and Kesar and applied in the bodies of ditties.
24. Badasinghara Besha (9pm to 10pm)
After Chadan Lagi the deities change their dress and wear another clean dress. It is the last Besha of the day in which the deities wear Barulagi Patta and listen to their favorite song Gitabovinda and Devadasi dance is performed in SriMandir.The deities are decorated with scented flowers and ornaments.
25. Badasinghara Dhupa (10:30 to 11pm)
After Badasinghara Besha the dities are offered for Badasinghara Dhupa.The foods like kanji & Pahal etc.
26. Khataseja Lagi (Midnight near about 11:30 to 12)
This is the last Niti of the day. In this ritual, the bed of deities is arranged and the bedsheet is taken to Garbhagriha. The Shayan Thakur is brought from Bhandar Ghar and Jay Bijay Dwara Niti is performed in which Paida Pani (Coconut water) is offered to deities along with Pana. Thereafter Alati is offered. The Shayan Thakur is placed in Ranta Vedi near Shree Jagannath.
27. Dwara Banda (Door Seal at about Midnight)
After Khataseja Lagi the doors of the temple are sealed and all persons from the inside were left the temple premises except some security persons from Police. The Singha Dwara (Lion gate is sealed). The external part of the temple is cleaned and sanitized.
Conclusion
The Daily rituals of Shree Jagannath Puri from morning to midnight are performed by various Sevaks, Puja Panda, and Brahmans. They have performed their duty on time in a dedicated way for which the Leela of Shree Jagannath is adhered to as per the tradition of the temple which is fixed.
In addition to daily rituals there are many festive rituals also observed in the temple from time to time without any delay. The ritual and the Besha of ditties are so nice and magnificent which cannot be expressed in words.
"JAY JAGANNATH"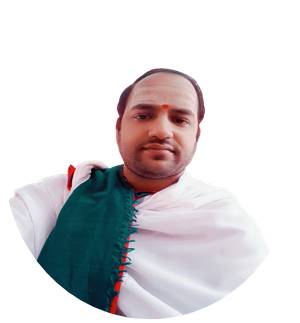 Pandit Rashmi Ranjan Rath is a Vedic researcher and also recognized by the Lord Jagannath Temple administration, Puri as a "Shree Jagannath Sanskruti Pracharak" in the year 2013. He has visited four Dhams of India for creating Lord Jagannath consciousness Worldwide. He is also the founder of "Baidika Brahamana Parisada Odisha".