Gemstone is a naturally formed crystal stone that contains various types of minerals. It looks very beautiful and colorful. The raw stones cut and polished to make them more magnificent and use as jewelry.
It is commonly used in jewelry and astrological remedies.
What are the myths about Gemstone?
Peoples are not known about the real truth behind the Gemstone and believe in various myths.
Some people in society have a blind belief in Gemstone. They thought that Gemstone drastically changed their health and wealth condition.

Some other people in the society told that it is a superstition.

Gemstone will finish all enemies and difficulties.

Wearing Gemstone makes the man rich and powerful.

Many astrologers prescribed their clients to wear a gemstone. They told that it will help to reduce the bad effects of the planets. But peoples thought that wearing the Gemstone will reduce all the bad effects of Sani/Rahu/Ketu etc.

If the problem is not solved then the person visited another astrologer. The second astrologer may prescribe to wear another stone.
What is the reality about Gemstone?
I saw that this is a common practice of peoples to frequent change their astrologer as well as Gemstone to get the result overnight.
In my research, I found that many peoples wearing Gemstones in their ten fingers and also wearing Gemstone Mala on their necks. But still, their stress and problem are not resolved.
Gemstone is a positive stone and used as a treatment. In the ancient days and now many counties also use Gems in color Therapy treatment. It will improve the positive energy. It stimulates hormonal and biochemical processes in the human body.
Gemstone is used for three purposes.
It reduces the malefic effect of the bad planets in the Horoscope during Mahadasa / Artardasa period.
On other hand, it used to enhance the power and energy of the weak planets in the Kunaldi/Horoscope. OR it will use as a booster for the good planets to enhance their positive result.
Lastly, it used as Jewelry like other ornaments (Gold, diamond, etc.).
You know that every action has a reaction. So you need to know the positive effects and negative effects of the Gemstone before wearing it.
So I suggesting to consulting with an experienced astrologer before wearing any gemstone. It is also suggested not to change the astrologer frequently.
After analyzing the facts and researching many Vedic Sastras, I found that the Gemstones have some benefits as well as some side effects.
Benefits of wearing Gems.
It used as a type of treatment known as color therapy. It balance's the color deficiency in the human body. It is a holistic treatment to improve your efficiency and energy.

It has the power to absorb positive cosmic energy and reduce the negative energy in the body.

Gemstone built with precious minerals in a natural way. The human body is also required minerals to stay healthy. So Gemstone helps the body to maintain the deficiency of the natural minerals.

It is more beneficial if someone wears it with Diamond/Gold/Silver.

Different Planets has different color code. So the Gems are wearing to match with the color code of the specific Planet to get a positive result. The opposite color gives a negative effect.
Side effects of wearing Gems
Wearing different types of Gemstone will unbalance the color in the human body. So the stress level became high.

A specific Gemstone needs to be wear for a specific period not for a lifetime.
For example – If someone has a delayed marriage problem and wears a Yellow Sapphire Gemstone. It will help him/her for marriage. If he/she continues to wear this Gemstone after the marriage then it will create new affairs. Then his/her family life became stressful.
Is it necessary to wear gemstone?
Wearing the right Gemstone will give beneficial results but it is not mandatory to wear a gemstone. There are many other natural ways in our Vedic system to get positive energy. Gemstone is one of them.
How to check the real gems?
Day to day the price of real Gemstone increased. That's why the artificial/manufactured gems came into the market. It is a big challenge for a common man to check and identify the real gemstone.
Nowadays Gems are prepare/manufacture in scientific Labs with chemicals and glass. It looks like real gems in the naked eyes. Don't believe in the mouth words of anybody.
So it is suggestive to test the Gemstone in a certified Gemmology Labs to know the genuineness' of the Gems.
Odisha Govt established a department named as Directorate of Geology. It tests the gems with the lowest price as compared with other laboratories in India.
You can check locally certified Labs in your locality to test the Gems. So it is mandatory to test the Gems in Gemmology Labs to known the genuineness' of Gem. The testing fee will cost you near about Rs.200-300 per piece.
DO
Buy Gems from certified Gem sellers.

Test the Gems in Gemmology Lab before wearing.

Energetic the Gems through a Vedic Pandit in Bija Mantra's of Gems/Rashi/Planet before wearing.

This energetic process needs to be repeated after every 6 months for better results.

Wearing a particular Gem for a specific period and store it in a safe place after this period for future use.

Wash the Gems through Honey/milk/butter/ and then clean it with clear water. Dry it in sunlight after wash.

Wear Gemstone with Gold/Diamond/Silver for better results.

You can wear color stones or artificial stones as fancy Jewelry. But it is n

ot given the beneficial result as real gems.
Don't
Don't wear untested Gemstones.

Don't believe in the mouth words of the Seller.

Don't wash the gems in chemical soaps or shampoos.

Don't rub the gems in Sharpe objects/magnetic objects.

Don't wear another person Gemstone without re-energetic in your name and Gotra.

Avoid eating non-veg foods and wine for better results.
How much ratty of the gemstone should worn?
There is no thumb rule for how much ratty of gemstone you will wear. It depends upon your budget and comfort in your finger. It is suggested to wear the Gemstone between 04 ratty to 10 ratty. 04 to 05 ratty is standard and largely used. The children below the age of 12 need to be wear 04 ratty or less.
Gems names and ruling Planets name
Gemstone's names are different in different languages. Each Planet has specific Gems as per its color code. The twelve houses of the Kundali/Jataka/Horoscope are calculated commonly with the effects of the following nine planets.
Sun (Ravi)—————-

Ruby (Manak)

Moon (Chandra)——-

Pearl (Moti)

Mars (Mangala)——–

Red Coral (Moonga)

Mercury (Budha)——-

Emerald (Panna)

Jupiter (Brihaspati)—

Yellow Sapphire (Pukhraj)

Venus (Sukra)———–

Diamond (Heera)

Saturn (Sani)————-

Blue Sapphire (Neelam)

Rahu (Rahu)————

Gomedh (Gomedh)

Ketu (Ketu)—————

Cat's eye (Lehsunia)
I will cover the details about all the gemstones in a separate article. If you have any questions or doubt about Gems you can mail us at [email protected]. You can share your experience with gemstones for our research.
Conclusion:
In Jagannath Sanskruti Gems known as Navranta. Mahaprabhu Shree Jagannath is also wearing Gemstones in their festivals. The Supreme Power also wears day-specific dresses and Gems.
The real Gems and other precious stones used in our temples. It makes the temple surrounding more energetic and peaceful for human beings.  
So no doubt the Gems created positive vibes and make the peoples energetic. But one thing keeps in mind that the Gemstone which you used need to be Real. For better results, you need to follow the do & don't before wearing Gemstone.
There are many ways in the Vedic system to get positive energy and reduce the malefic effects of the planets. There is no shortcut and overnight plan to get positive energy easily. It is a continuous process that needs patience and concentration.
"JAY JAGANNATH"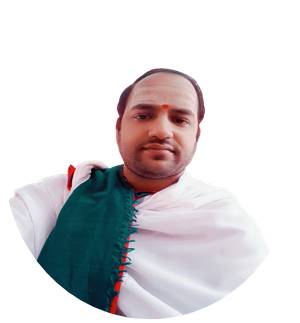 Pandit Rashmi Ranjan Rath is a Vedic researcher and also recognized by the Lord Jagannath Temple administration, Puri as a "Shree Jagannath Sanskruti Pracharak" in the year 2013. He has visited four Dhams of India for creating Lord Jagannath consciousness Worldwide. He is also the founder of "Baidika Brahamana Parisada Odisha".