About Jagannath Sanskruti
Jagannathsanskruti.com is creating Lord Jagannath consciousness Worldwide. It organizes Jagannath Pancharatra programs as per "Skanda Puran".
Jagannath Sanskruti of Odisha is the oldest Sanskurti in the world. The Supreme Power Lord Jagannath is the ruling god of this Sanskruti.
Why Jagannathsanskruti.com is starting?
The Pandit Rashmi Ranjan Rath visited lots of villages and cities. He also visited different states of India to creating Lord Jagannath consciousness.
He also educates the peoples about the Veda and Shastras of India which is a gift to us by our Rishis and Munis.
It is difficult for me to visit the entire village of India and worldwide for creating awareness about Jagannath Sanskruti.
So we choose the digital platform to spread the positive spirit of the Jagannath Sanskruti. This platform will help peoples around the globe to know about the Lord Jagannath.
Who is Pandit Rashmi Ranjan Rath?
Pandit Rashmi Ranjan Rath is the founder of JagannathSanskruti.com.
He is a Vedic researcher. He researches Indian Veda, Vedic Culture, Purohita Karmakanda, and Upanishad. He is collecting ancient Pothis.
Shree Jagannath Temple administration Puri recognizes him as a Shree Jagannath Sanskruti Pracharaka.
In the year 2013, he received this honor from the Gajapati Maharaja of Puri
He has visited the Four Dhams of India to creating Lord Jagannath consciousness.
Jagannath Dham Puri, East

Dwarka Dham, West

Badrinath Dham, North

Rameshwaram Dham, South
He is also the founder of "Baidika Brahamana Parisada Odisha". It is working for creating awareness among the peoples about Veda and Vedic Karmakanda.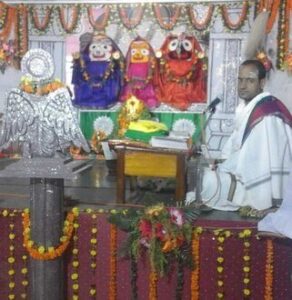 Pandit Rashmi Ranjan Rath performs all types of Vedic Puja's online and offline. You can contact him for "Shree Jagannath Pacharatra" & Vedic Karmakanda.
 Mail id –[email protected]
We found that peoples have many questions in their minds about Veda and Shastras, etc.
They have no clear idea what they have to do or what they have not to do.
So we decided to answer the questions revolving in the minds of the peoples. Our Panditji will answer the questions with a logical conclusion as per Veda Shastra.
So anybody can send their question to our mail id [email protected]. If the same question will ask by more peoples then we will post an article to cover all such questions. Otherwise, we try to reply sender by mail.