The guide travel to Puri prepared with a view to helping the tourists and pilgrims. They can visit the famous places of the Puri district. It makes his/their travel journey memorable & enjoyable.
The Puri is a coastal district in the eastern part of Odisha which is famous for Lord Jagannath Temple. It is a beautiful tourist place and peoples from all over the world visited this place. It is a 60 km distance from the capital of Odisha.
It is also known as the heritage city of Odisha. The popular names of Puri are Jagannath Dham, Purusottama Kshetra, Shree kshetra, etc.
Which is the best time to travel to Puri Jagannath Temple?
This is a suitable tourist place for all the season. But from October to the end of February is the best time for tourists.
During this period the climate of Puri is very pleasant and the temperature of the climate is 10 0c to 200c. The period of Rath Yatra (July to August). It is a great time for pilgrims to take part in the Chariot festival of Lord Jagannath.
How to travel to Puri?
This place is well connecting with the Railway, Bus, and Air, etc.
The NH-356 is connected from Bhubaneswar to Puri. The following communication facility is available for Puri.
1.Railways
It is connected with inter-state through Railway lines. Many trains up/down from Puri to different states of India.
The station code of Puri railway station is "PURI". The station name of Puri is also called "Puri railway station".
You can check the train names from your source to destination Puri through the IRCTC website.
Puri station is in the heart of the city and nearest to all hotels. The Jagannath temple is 2km from the station and the Sea beach is 1.5km from the Puri station.
2.Bus
Bus services are available from Kolkata to Puri. But from other states, train communication is better.
The inter-district bus communication to Puri is very good. The bus stand of Puri is at Srigudicha Temple. It is 3km distance from Jagannath temple and also 3km distance from the sea beach.
3.Air
The nearest airport is Biju Pattanaik International Airport at Bhubaneswar. It is a 60km distance from Puri.
You can travel to Puri by train from Bhubaneswar railway station.
or travel through City bus
or taxi from Bhubaneswar.
Is the lodging facility well in Puri?
Yes, the lodging facility is very well in Puri city. You can find your budget hotel near Sea beach as well as Grand road Puri.
The hotel and Lodges are starts from Rs.500 per day onwards. You can book Lodging through the websites of hotels and also compare the price as per your budget. The check-out time of Puri Hotels is 7 am/8 am morning.
The lodging facilities are also provided by the Puri temple administration. The pilgrims book their accommodation at an affordable price on the following lodging.
1. Neeladri Bhakta Niwas- It is near the town Police station. It is about 500m distance from the temple. It is 2km distance from the railway station and sea Beach.
2. Shree Gundicha Bhakta Niwas- It is about 3km from the Jagannath temple and Sea beach. It is near Gundicha Temple.
3. Nilachal Bhakta and Yatri Niwas- It is Infront of the town Police station. It is about 500m distance from the temple. It is 2km distance from the railway station and sea Beach
You can contact and book these hotels through their Puri temple online website.
Is there any Shoe and mobile stand near Jagannath Temple?
Yes, The temple administration provided this facility to all for free of cost. The stand situated on the right side of the entrance gate as shown in the below picture.
There is a very nice arrangement by the Temple administration for the Pilgrims. All visitors kept their mobile, Belt, Shoe, etc. on the stand.
The stand provided a Bag in which you can put your shoe, Belt, Mobile, etc. in the different packets. Then handover it to the stand authorities. They will check these articles and provide you a ticket. At the time of returning, you can show your ticket at the exit gate and taken back your articles.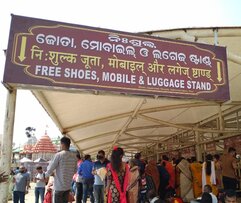 Is there any information center near Jagannath Temple?
Yes, the Shree Jagannath temple information center is on the right side of the entrance. It is next to the mobile stand.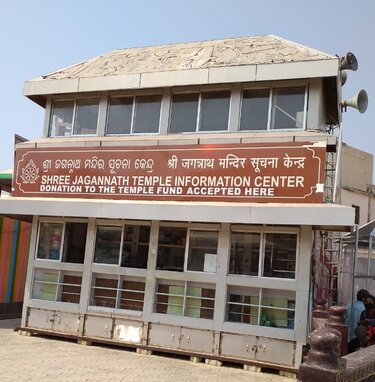 What are the famous places in Puri?
The following places are famous tourist places in the Puri district.
Shree Jagannath Temple – The world-famous Jagannath temple architecture and traditional engineering is very magnificent.

Loknath Temple –

This is a famous Shiva Temple at a distance of 3.5km from Puri city. Local buses, taxis, and auto are available to visit this temple.

Puri Sea Beach-

The sea beach of Puri is very beautiful. You need to adopt the safety measures during bathing on the Sea beach. You also take the help of Security guards for safety tips of the beach.

Alarnath Temple-

This temple situated in Brahmagiri which is 24km from Puri city. The Lord Vishnu is worshipped in this temple as Alarnath.

Satapada Dolphin sanctuary –

It is a 50km distance from Puri city. Satapada on Chilika is very famous for Dolphins. It is a very nice place for boating.

Sun Temple Konark & Marine Drive-

Sun Temple Konark is 34km distance from Puri town. Bus, Taxi & auto always available to visit the world-famous Konark temple.

The road from Puri to Konark known as Marine Drive. The place is very much attractive. It causes most of the filmmakers to love to have scenes for their films here.

Sakhigopal Temple – This Temple know as Satyabadi Gopinatha Temple. It is an 18 km distance from Puri town. This temple is famous for touching the Radha's feet on the occasion of the Anla Navami Festival (Odiya Kartika Masa).

Raghurajpur Artist Village –

It is a craft village within 11km of distance from Puri town. This village is famous for Pattachitra painters and Gotipua dance troupes.

Pipil –

Pipili is famous for designing beautiful Applique handicrafts. It is a 37km distance from Puri town.
Smart city Bhubaneswar (Capital of Odisha)
Bhubaneswar is the capital of Odisha and 60km distance from Puri town. It is popularly known as the temple city of Odisha.
There are many beautiful places like Shree Lingaraj Temple & Bindu Sagar lake. Odisha State Museum. Nadankanan Zoological Park. Dhauligiri Baudha Stupa. Khandagiri caves, etc.
How many days are enough to travel to Puri?
Minimum 03 to 04 days is required to visit the above places and enjoy the journey successfully. The following is the day-wise suggestive plan to visit the famous places in Puri and nearer cities.
Day-01
Visit the Lord Jagannath Temple, Shree Gundicha Temple, Loknath Temple, Sea Beach, Raghurajpur Artist Village, and other temples & Mathas adjacent to Jagannath Temple.
Day-02
Visited Sun Temple Konark, Enjoy Marine drive and sea beach at Chandrabhaga, Ram Chandi temple on way to Konark, Sakhigopal Temple, Pipili, etc.
Day-03
Visited Alarnath Temple and Satapada Dolphin sanctuary. Enjoy the boating in Chilika lake.
Day -04
Visited Temple city Bhubaneswar and Famous Shiv temple Shree Lingaraj, Odisha State museum, etc.
Important Official websites for your reference
1. Official website of Shree Jagannath Temple Puri.
2. Official website of Puri district administration
3. Official website of Odisha govt. Tourism
Conclusion
Puri is a beautiful heritage city of Odisha. It is famous for Lord Jagannath Temple, Sea beach, Pattachitra painters, Sand Art, and beautiful Applique handicrafts. 3 to 4 days is required to visit famous places in Puri.
The communication and accommodation facility at Puri is very well. I hope this travel guide to Puri will help you to plan your journey successfully in a short period.
Please feel free to contact us at our official mail id-
"Jay Jagannath"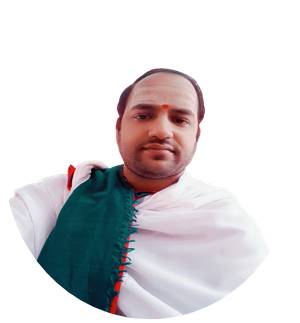 Pandit Rashmi Ranjan Rath is a Vedic researcher and also recognized by the Lord Jagannath Temple administration, Puri as a "Shree Jagannath Sanskruti Pracharak" in the year 2013. He has visited four Dhams of India for creating Lord Jagannath consciousness Worldwide. He is also the founder of "Baidika Brahamana Parisada Odisha".