The Aruna Stambha (Sun Pillar) is placed in front of the Lion Gate (Simha Dwara) of Jagannath Temple on the eastern side. This Stambha is also popularly known as Sun Pillar.
The art & Craft of this Stambha is very beautiful and magnificent. The area where the Aruna Stambha was installed is popularly known as "Aruna Stambha Chakada".
History of Aruna Stambha (Sun Pillar)
The historians and researchers give their opinion that the Ganga dynasty King Langula Narsingha Dev was built the Aruna Stambha during the construction of the Konark temple in the year 1250 (13th century period).

In this Stambha an elegant statue of Aruna is mounted in a prayer mode as he is the charioteer (Vahana) of the God Sun.

The Konark temple was damaged during the 15th to 17th century period.
After that in the 18th century the Maratha Guru, Brahmachari Gosain brought this pillar from Konark and re-erected it in front of the Simha Dwara of Shree Jagannath temple during the period of King Divyasingha Deva.
From the 18th century to date this Sun Pillar is worshipped by the devotees in Jagannath Sanskruti.
Size and construction of Aruna Stambha (Sun Pillar)
The Stambha (Sun Pillar) is the monolithic (Made of a single stone) shaft of chlorite with sixteen sides. The Stambha Capital is formed of two rings surmounted by a series of lotus petals.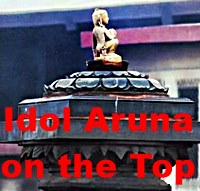 The carvings on the plinth "are of the most sumptuous description, the like of which are to be seen nowhere else in India. This Stambha is 700 years old (13th century to 21st century).
For safety and security reasons this Stambha is surrounded by iron grills.
Size of the Aruna Stambha (Sun Pillar)
The height of Aruna Stambha from the ground to top———–

33.8ft

Height displayed———————–25.02ft
Diameter———————————-2ft
Circumference—————————6ft & 3.5inch
Rituals Performed
The daily rituals of the Sun Pillar are performed by the Chunara/Garuda Sevaks of Srimandir as per Vedic Niti. The devotees are also offered their Puja to the idol Aruna.
Conclusion
The Sun Pillar was built in the 13th century by the Ganga dynasty King Langula Narsingha Dev and established at Sun Temple Konark.
It was shifted from Konark to Puri in the 18th century. It is a magnificent sixteen-sided monolithic column of chlorite stone set on an exquisite pedestal. This Stambha is 700 years old.
"Jay Jagannath"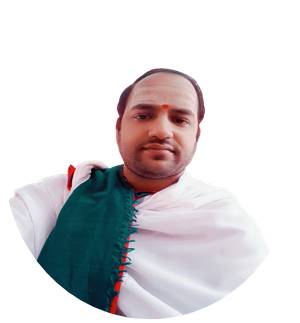 Pandit Rashmi Ranjan Rath is a Vedic researcher and also recognized by the Lord Jagannath Temple administration, Puri as a "Shree Jagannath Sanskruti Pracharak" in the year 2013. He has visited four Dhams of India for creating Lord Jagannath consciousness Worldwide. He is also the founder of "Baidika Brahamana Parisada Odisha".